How to print with varioShore TPU
varioShore TPU is the latest innovative 3D printing filament by colorFabb and is now available. Our varioShore TPU is flexible in more ways than one!
varioShore TPU allows users to vary the density of the material by adjusting temperature and material throughput (speed & layerheight). At temperatures between 200 and 250C the materials will start to expand to roughly 1.4-1.6 times its original volume. This means the material can be printed at low flow rates (60-70%), to compensate the active foaming, which in return gives very soft printed parts. Between 190-200C the material can be printed without foaming, resulting in different haptics and harder prints compared to foamed samples.
We sent several spools to beta testers and this is what they had to say about it:
"It really is a fantastic development… Incredible innovation." – Steve Cox
"Another astonishing FDM material development from the colorFabb team." – Richard Horne
"Another amazing product by colorFabb!" – Bart Tangermann
LUBRIZOL CO-OPERATION
For this development colorFabb partnered with Lubrizol Engineered Polymers, a leading global producer of Thermoplastic Polyurethane (TPU), used in everyday consumer and industrial applications, with a strong global manufacturing and supply network.
Lubrizol Engineered Polymers' expertise in TPU chemistry was key to provide a customized TPU with a wide range of processing temperatures and adequate melt viscosity, meeting the requirements during extrusion and printing. A wider range of thermal stability and melt rheology allows an extended upper range of printing temperatures to maximize the range of densities achieved through colorFabb's unique filament foaming technology.
The result is a filament with a base TPU of 92A, which will work with most standard extruder set-ups for both Bowden and direct drive systems.
MAIN FEATURES
The main features of varioShore TPU are:
VARIABLE SHOREHARDNESS
This material is not limited to one shore hardness, but with the right print settings you can have multiple shore hardnesses – even in one print!
REDUCED WEIGHT / DENSITY
colorFabb used the technology previously used in their light weight LW-PLA in this filament as well to reduce weight significantly. Although the weight reduction of varioShore TPU is not as significant as LW-PLA, the weight of the overall print is noticeable and can make the difference for prints where weight matters.
SOFT TOUCH SURFACE
Prints that need a soft touch, like handle bars for bikes or shoe soles are no problem anymore with varioShore TPU.
It is, in short, a filament that is flexible in more ways than one. colorFabb initially offers one variety: a very neat natural filament without colorant on spools with 700 grams of filament. For settings, tips and tricks we refer to the product page on the colorFabb website.
MATERIAL SUMMARY
Name: colorFabb varioShore TPU
Diameter Tolerance: ± 0.1 mm
Density: 1,2-1,3 g/cm3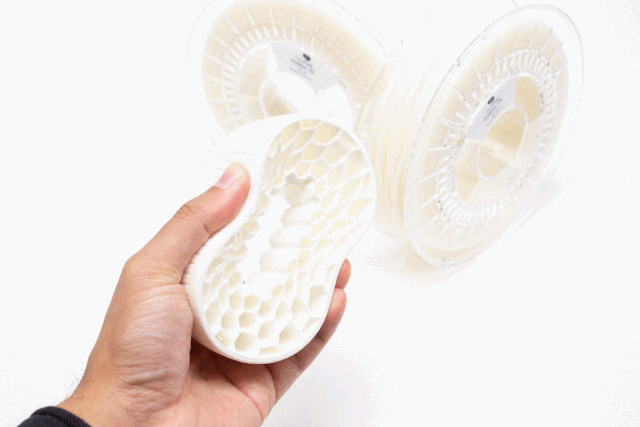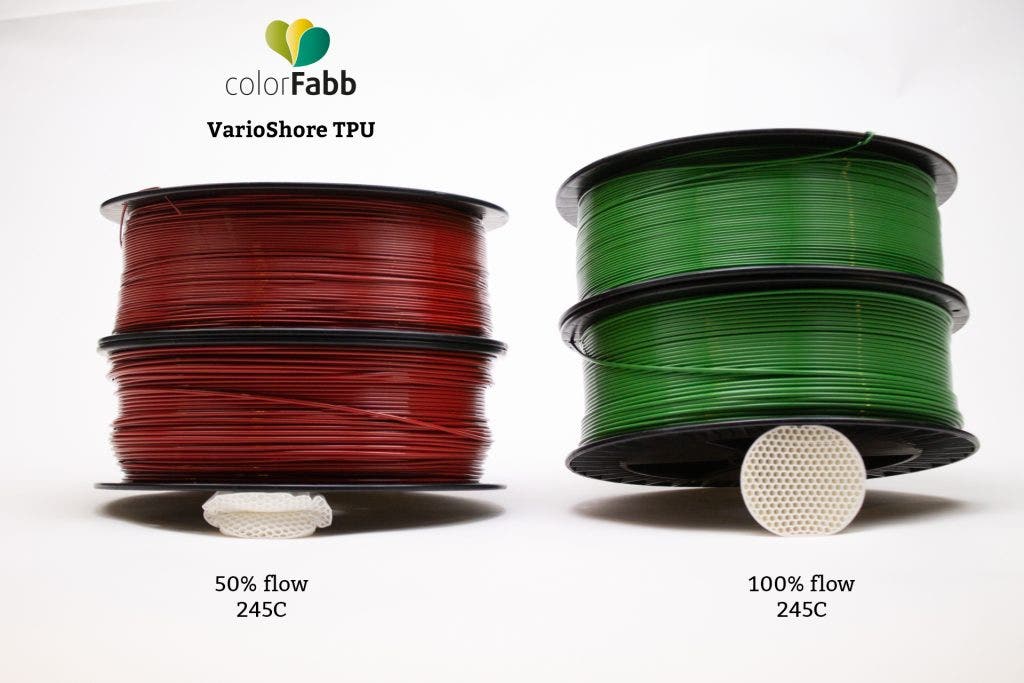 ---
---
TIPS & TRICKS
At colorFabb we have a well-equipped 3d printing studio with many popular 3d printers. Our varioShore TPU has been tested using various 3D printers, which has resulted in the following recommended settings.
Adviced 3d printing temperature: 190C-250C
Adviced 3d print speed: 20-30 mm/s
Advised Heated bed (if you have one, not strictly necessary): 20-40C
Cooling fan: Use the least amount of cooling when maximum foaming is required. For better overhang performance use 50-100% cooling.
We advise our users to use standard TPU settings as a base setting for developing your own pre-sets.
Make sure the distance between nozzle and platform is not to small, especially if the material is being foamed while printing, the pressure will need to be released from the hot-end to prevent clogging and feeder issues.