ENCOURAGING STUDENTS TO DISCOVER AND LEARN!
NEVER STOP LEARNING.
Challenging students to learn and seek new things every day is at the heart of every educational program of any school, college or university. We support active experimentation and creativity by supplying schools, colleges, universities, fab labs and makerspaces with a broad range of materials and by granting an immediate 20% discount.
ALL YOU HAVE TO DO:
Create an account and contact our sales department by sending an email to sales@colorfabb.com.
A few advantages of ordering online:
Immediate 20% discount

Worldwide shipping, with Track and Trace, within 24 hours (when in stock)

Downloadable invoice in your account

Multiple payment options (all major credit cards, PayPal and bank transfer)
Our RAL colors (Color on Demand) and other custom (color) requests are not eligible for this discount.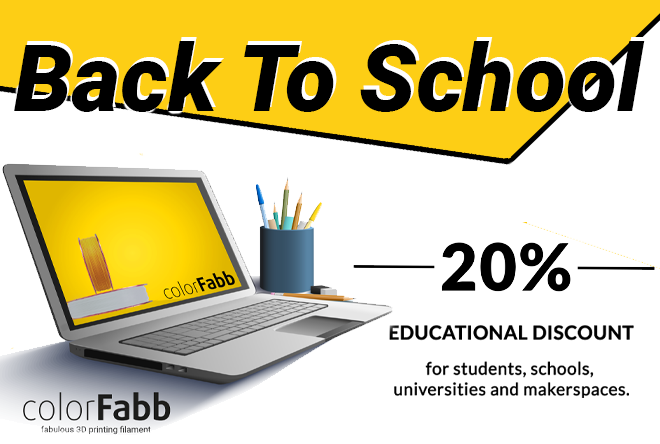 WHAT WE CAN DO FOR YOU!
We don't just sell filaments, we sell an experience, development and creativity, combined with great service and extensive knowledge.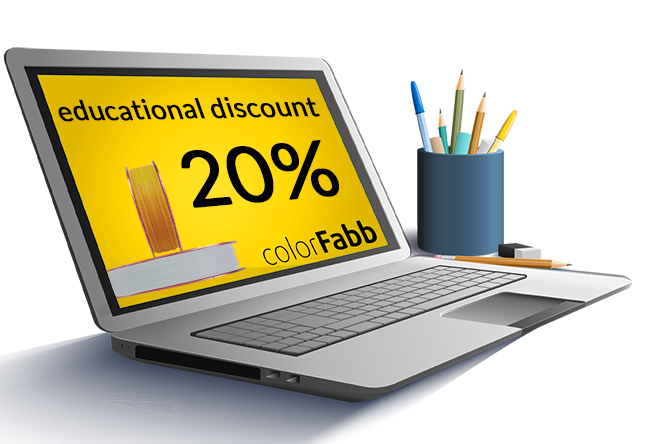 GET A 20% DISCOUNT!
Who doesn't want 20% off on their purchases? We offer a discount on pretty much all our filaments for students at schools, colleges, universities, fab labs, and makerspaces.
We also offer schools and universities the possibility to purchase on credit. If this sounds like something your educational organization is interested in, please contact our sales department for more information at sales@colorFabb.com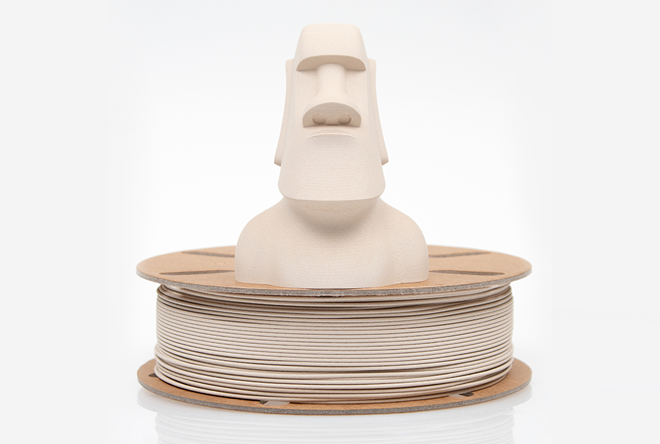 WIDE RANGE OF FILAMENTS
We support active experimentation and creativity by supplying schools, colleges and universities with a wide range of materials.
From special fill effects like stoneFill, copperFill and woodFill to the sustainable Vibers blend and our 100% biodegradable filament allPHA, colorFabb is determined to provide students with high quality options to encourage learning.
OFFERING SUPPORT & KNOWLEDGE
We're ready to answer your questions!
Material-related or process-related, our team of 3D print engineers, product heroes, support agents, and development specialists are ready to support you in any way they can.
Hit us up over at support@colorFabb.com and we will help you the best we can!
EXPANDING OPPORTUNITIES FOR EDUCATION!
With the right materials, 3D printing design possibilities are endless!
Eastman is partnering with the University of North Carolina at Chapel Hill to give students and faculties the space to bring their wildest creative visions to life. Committed to innovation, UNC has established BeAM@CAROLINA: a network of makerspaces open to anyone affiliated with the university to use. The Eastman Foundation has helped supply UNC with 1,000 spools of 3D printing filament of colorFabb XT, made with Eastman Amphora™ 3D polymer, and host technical workshops, fostering collaboration across campus.
Learn more about how this exciting partnership is expanding opportunities for education, research, and entrepreneurship.
Video courtesy of Eastman Chemical Company.
NEVER STOP LEARNING AND DISCOVERING!
At colorFabb we encourage bravery, passion and an eagerness to learn.
EDUCATIONAL BENEFITS OF 3D PRINTING
Teaching students the ins and outs of 3D printing, how 3D printing works tech-wise and how it's applied in realistic scenarios (such as simplifying industrial processes or printing prosthetics and orthotics).
Including 3D printing in curriculums enables sharing ideas and developing practical skills, and helps improve student creativity and design skills.
It can enrich an educators teaching, e.g. having a 3D printed Colosseum is obviously way more interesting than looking at a picture of it! Printing artifacts, architectural structures, and elaborate detailed objects that help students understand important concepts.
Implementing 3D printing in education is enabling students to work with science, technology and engineering after their study.
FIELD TRIP OPPORTUNITIES FOR SCHOOLS
Looking for an educational field trip to enrich your classroom curriculum? colorFabb offers schools the opportunity to experience 3D printing and the production of filaments up close!
Field trips allow students to acquire a more integrated, realistic picture of all the information absorbed. New experiences aren't presented in an abstract or a textual form. Reinforced and enriched experiences stimulate intellectual and sensory inputs of young minds.
Interested in having your students learn more about 3D printing – from development and production to design and end results? And who knows, maybe the teachers will learn something new as well!
Contact sales@colorFabb.com for more information.
ACKNOWLEDGED TRAINEESHIP COMPANY
Multiple of our past interns have joined the colorFabb company as employees! Jules, for example, is our finance and control intern-turned-employee. And we're over the moon that he decided to join the colorFabb family!
We're always looking for interns that are dedicated to their projects, eager to learn and don't mind making mistakes. Do you describe yourself as ambitious, motivated, adaptable and independent but also a great team-player?
Yep, then we might be looking for you!
Click here to apply for an internship and to see our current vacancies.
MEET OUR PRODUCT HERO GIJS!
Who knows all about 3D printing and filament
Each filament contains a particular fill and has its own technical requirements to be printed. The final result of your print depends on the right combination of the type of printer, printer settings, nozzle, heating, filament, and more.
If you have any questions or require support, don't hesitate to contact us – we are happy to help!