How to print with colorFabb_XT
Our _XT filament has been around for a while now and we've been getting lots of positive feedback and tips. Therefore we decided it was about time to do a little write up of all the tips and comments to help you get the best possible quality from your 3d printer.
One of the unique aspects of the XT-Copolyester is the melt strength. This is what makes for good bridging properties and toughness of the overall material. But it also means higher temperatures are needed to reach the appropriate viscosity which is needed for printing at various speed settings.
HEATED BUILD PLATE
colorFabb_XT is best printed with a heated build plate. The ultimaker 2 uses a glass plate which we cover with glue stick. We keep the build plate at around 70C because this material also features a higher glass temperature of about 75C. This means your prints will be able to withstand heat better then for instance PLA prints.
COLD BUILD PLATE
If you don't have a heated bed and you do want to give XT a try then we advice the following. Print on blue painters tape and make sure the build plate is perfectly level and the distance of the nozzle tip to the platform is spot on for the first layer. Then the trick to minimize warping on a cold bed is to disable the cooling fan for the first 1-2cm. If your part needs cooling you can switch it on after having printen a few cm high, if you don't need it just leave it off. Because your not cooling the material to aggressively it won't warp as much. You should be able to print on a cold bed like this, but do expect some warping. Additional measure can be taken to minimize warping by enabling either 'brim' or 'raft' settings in you slicer software.
TRANSPARENCY
To get the most transparency out of the print you could try the following:
disable cooling fan for the entire print
print slowly, 20-40 mm/s
increase flow rate, so the perimeters melt together
print at rougher layer heights, such as 0.27mm – 0.35mm
Grumpy Pumpkin sitting pretty on a spool of colorFabb _XT filament, printed on a Ultimaker Original with cooling fan disabled for first centimes of the model.
close-up on the spool and 3d print.
A vase printed with _XT, check our thingiverse account for the 3d model.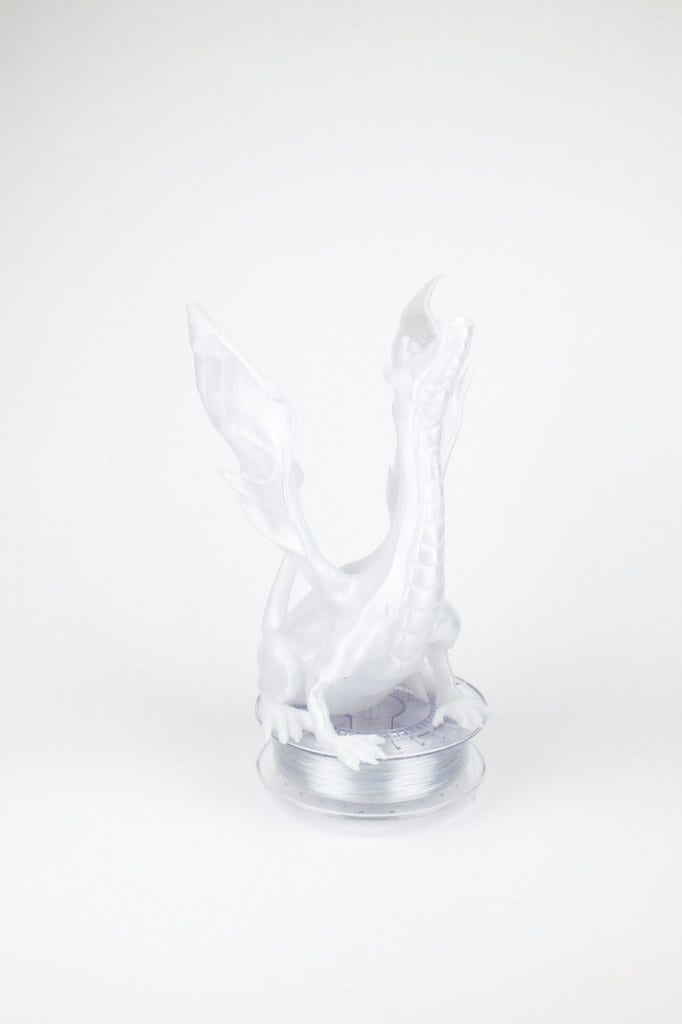 The singing Serpent by Loubie.