This posts features some of modern cinema's most well-known bad guys: Darth Vader and Thanos. One is a famous absentee father, the other is inevitable. While we won't dwell on the redemption of the former and the He-May-Have-Had-A-Point of the latter, we will focus on the prints: two large busts.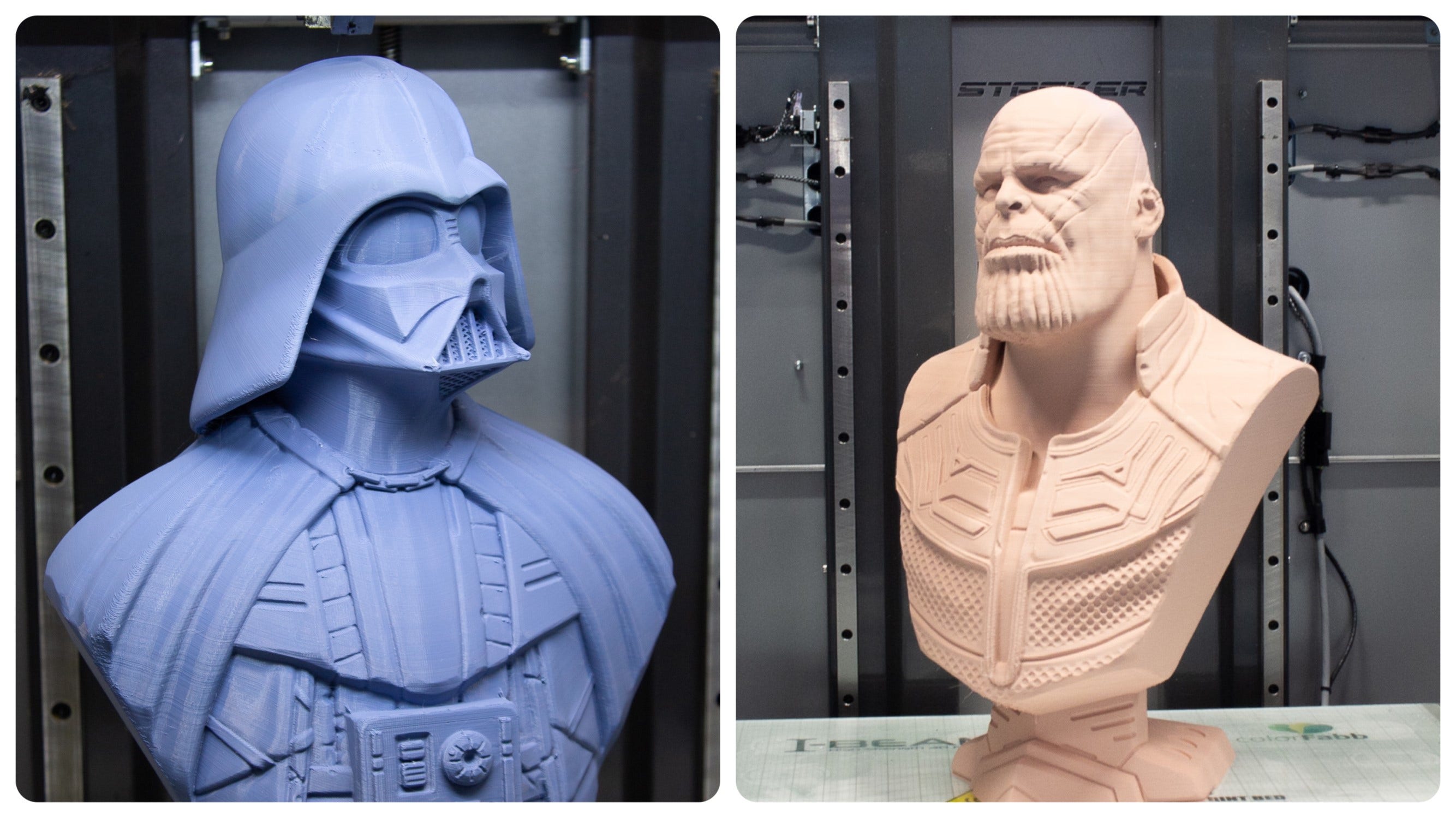 Designs
Let's first of all look at the designs. We love the work of David Östman, aka Eastman, who has specialized in the busts of heroes, villains and other well-known pop culture icons. We have featured his work before and he keeps amazing us with his design skills. After reading this post the next stop should be his page on MyMiniFactory:
We keep our eyes on this page to see what's next!
---
Printing
Moving on to the prints themselves we opted for Large - capital L. And with large prints comes the need of hardware reliability, which is why we chose our beloved Stacker printers in our own print lab for these jobs.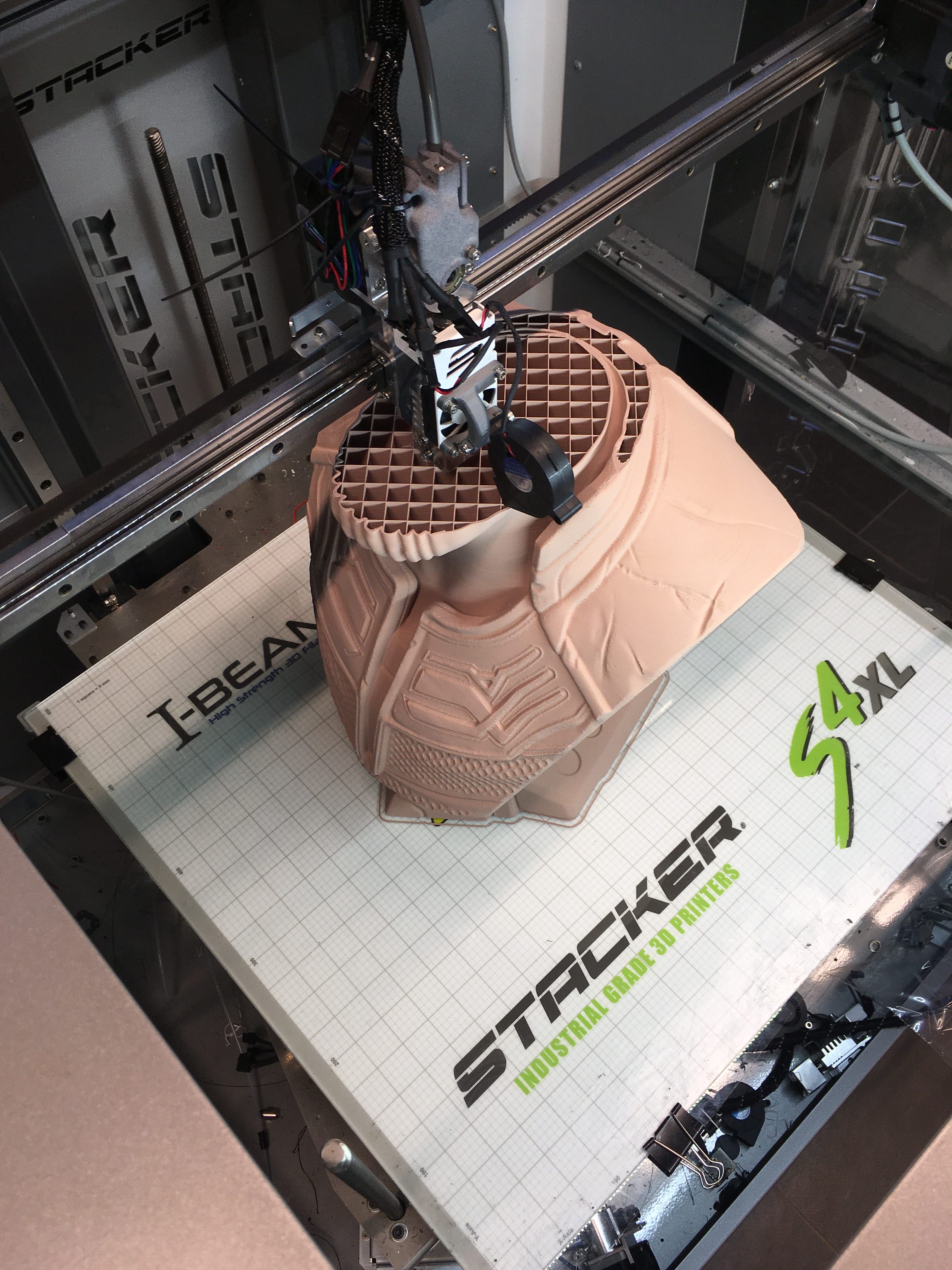 Special note: The Stacker S2 now has a 20% discount - as long as stock lasts!
Darth Vader was printed on the Stacker S2 and for Thanos we chose the Stacker S4 XL. Both were printed at 0.2mm layer height, at 210 degrees C at 50mm/s. Head to... well, bust Vader measures 46cm and Thanos is a bit larger with 54cm.
It took respectively 4 and 5 days to print Anakin's alter ego and the Mad Titan.
---
Color on Demand
But they look a bit odd, don't they? The colors are not what you would expect, but with 3D printing one does not have to follow conventions when it comes to color. And with our unique Color on Demand program you can go completely wild and print with the colors you actually want!*
For Darth Vader we went for a lighter-than-usual, but still neutral look with RAL 5014, aka Pigeon Blue. It is not a common 3D printing color, but available at colorFabb (made to order), as are nearly 200 other RAL colors.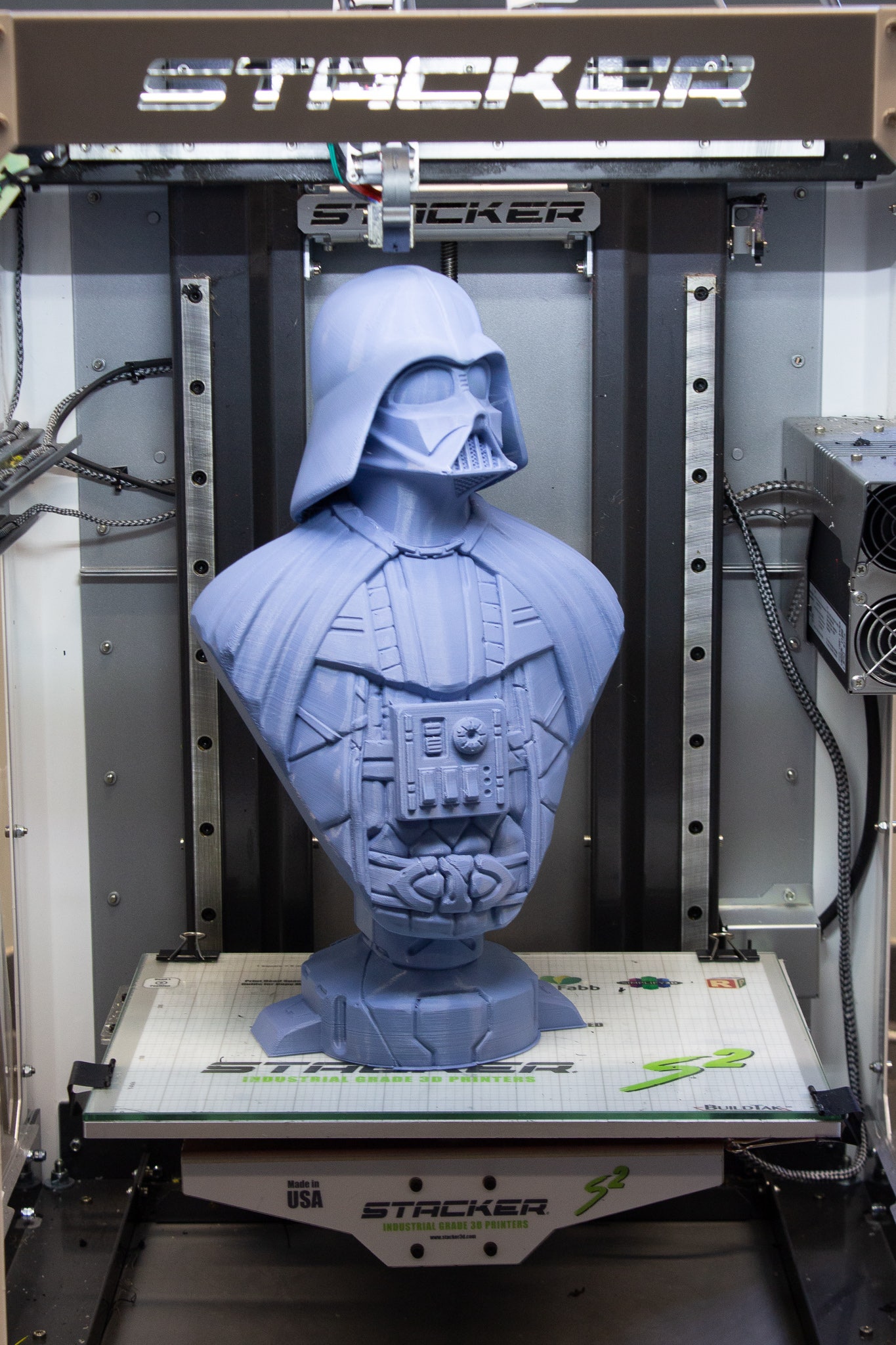 Thanos got an extra special treatment. We used a skintone color based on a customer reference and specifically made for them, also part of our Color on Demand.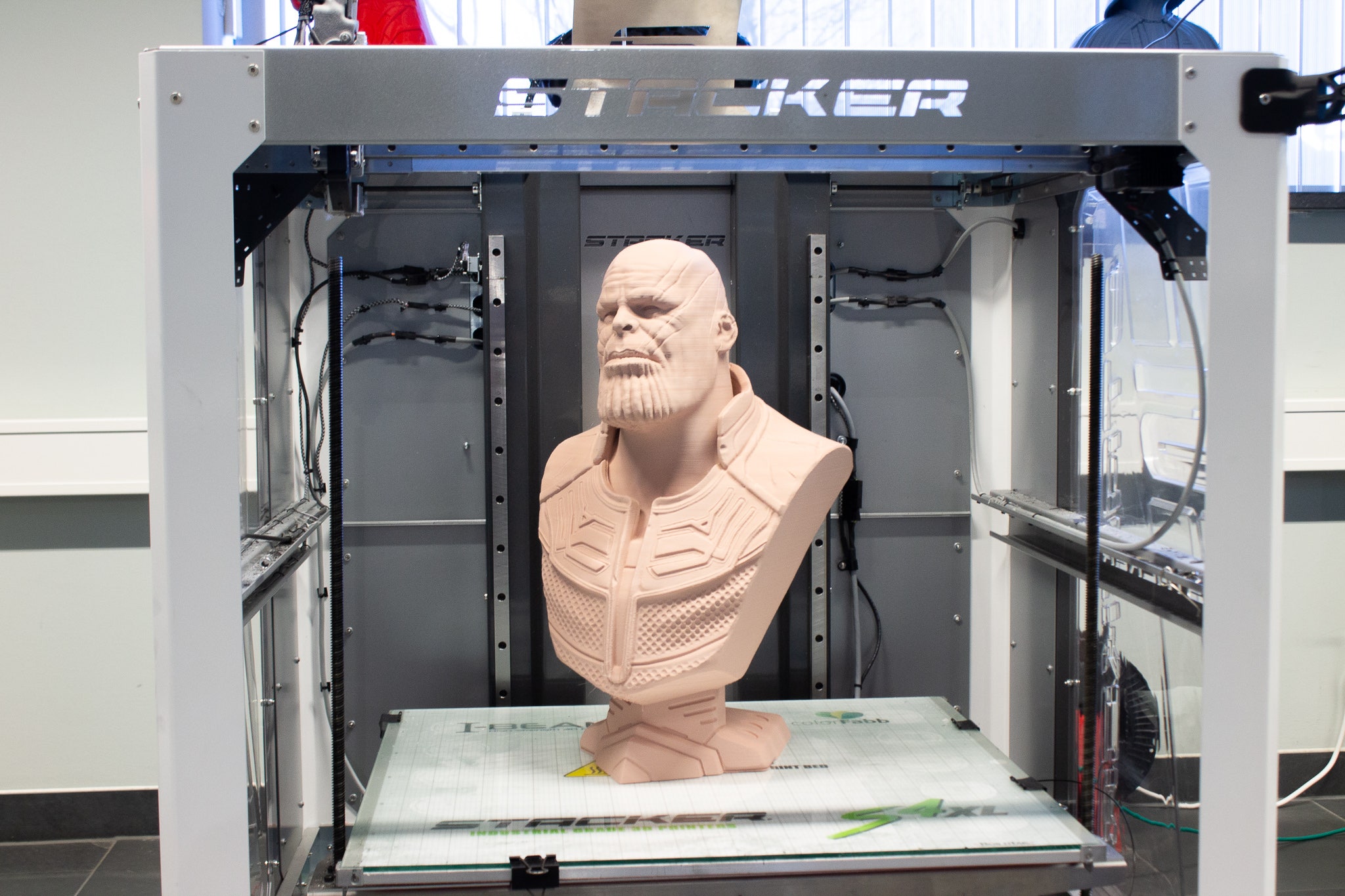 Looking for a custom made color? Just ask!
Color on Demand is our one-of-a-kind service where you can finally choose the color you want to print with. Right now it is available for PLA filament only. Aside from the known RAL colors we have already matched hundreds of other colors, based on various references or physical parts sent to us.
The threshold for custom colors has never been this low in the history of 3D filament making. Our unique coloring process allows us to efficiently produce starting from a single 750g spool up to any amount you might need. Minimum order quantity for matched RAL colors is as low as one single 750g spool and custom colors will be made starting from a single 2.2kg spool.
Curious which are the most popular Color on Demand colors? We have them gathered in a specific section on our website:
* But honestly, we printed with colors we had lying around and seemed cool.
---
Finding their place in the universe
These characters have roamed many a planet in the fictional universes, but have found their resting place in our print lab, together with other prints we made in recent years:
We'll post more about our print lab and what goes on there in a future blog post. Stay tuned...
All designs by David Östman, including Spider-Man and The Mandalorian in the group photo.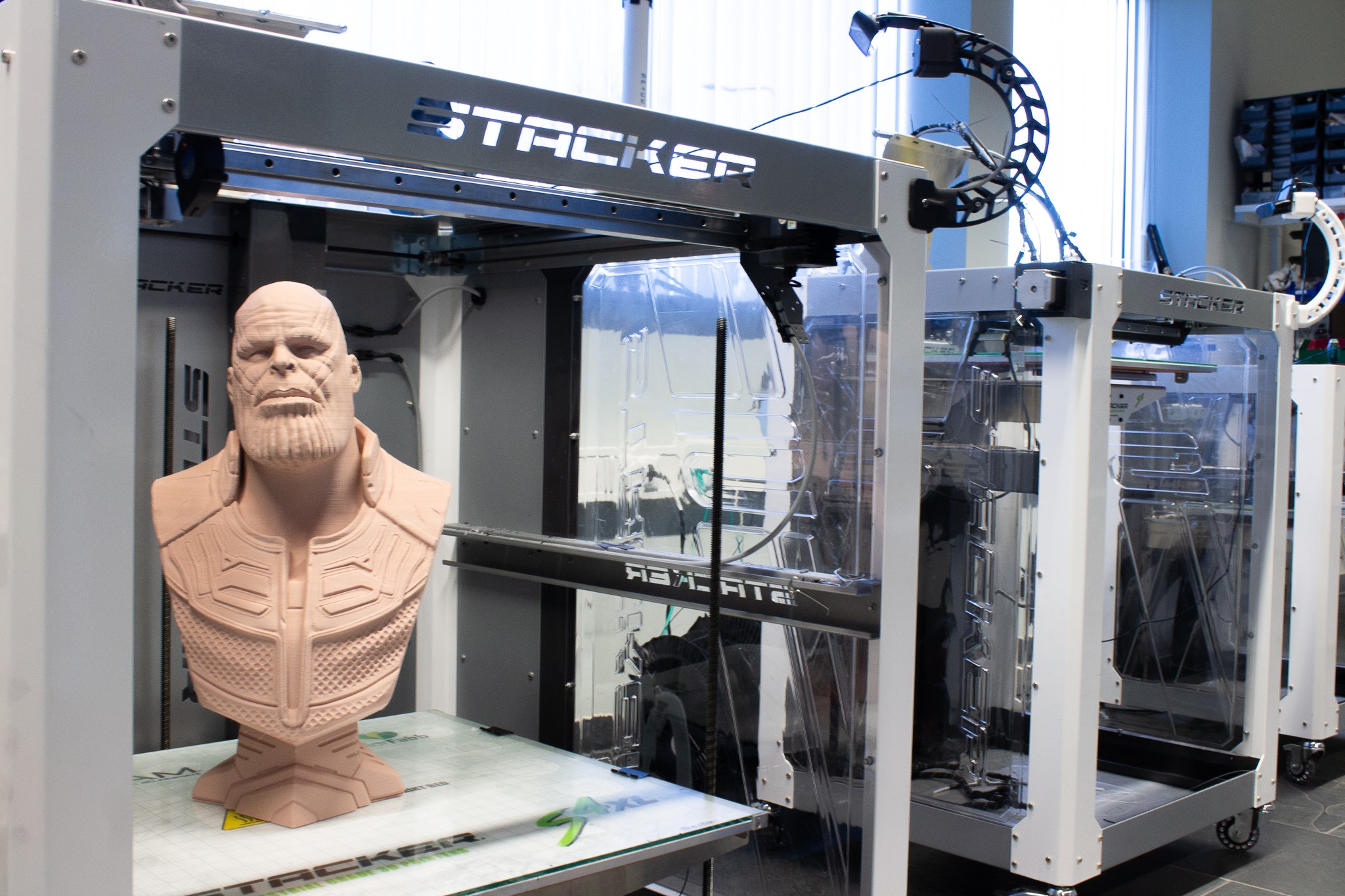 ---
---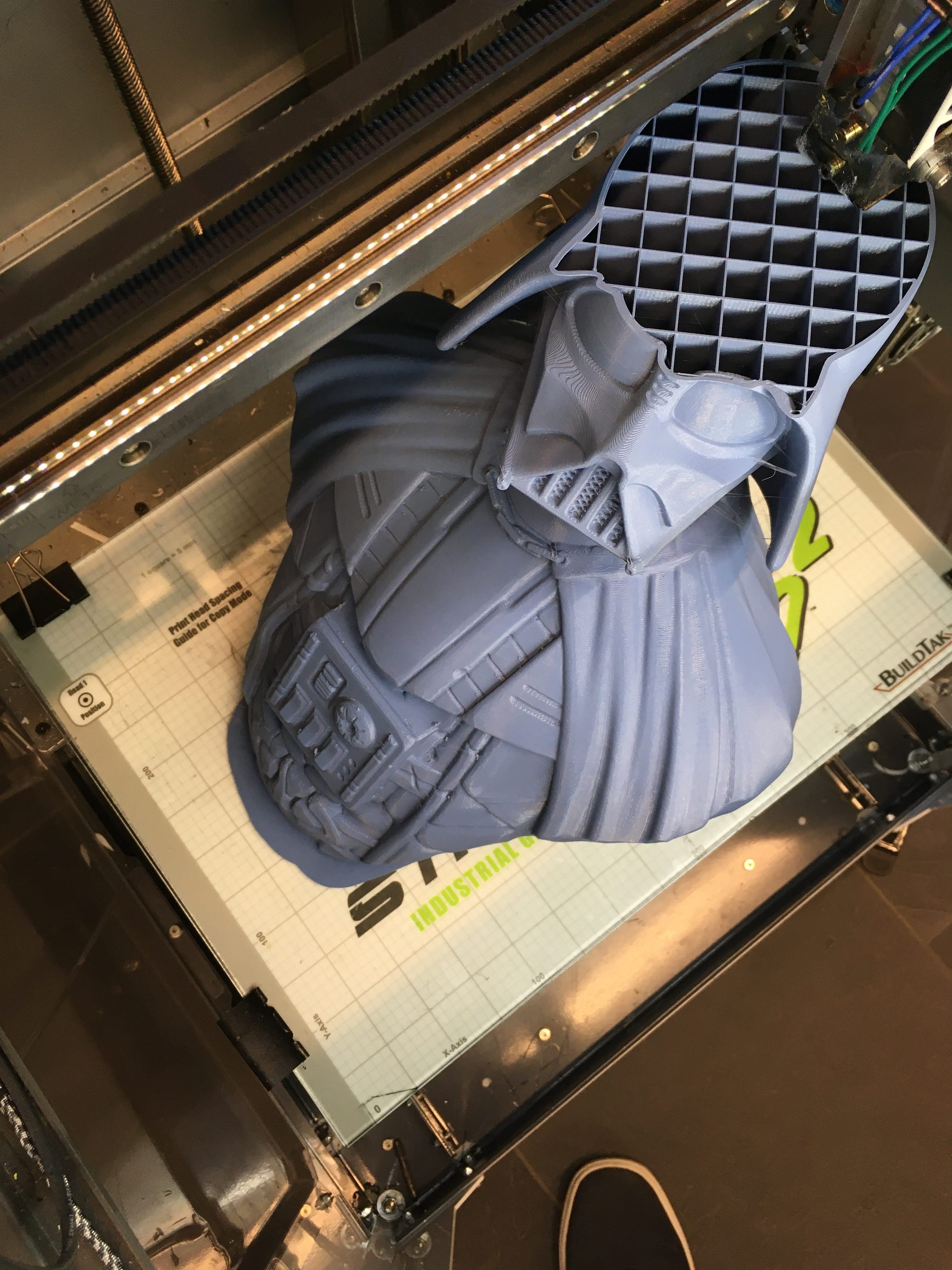 ---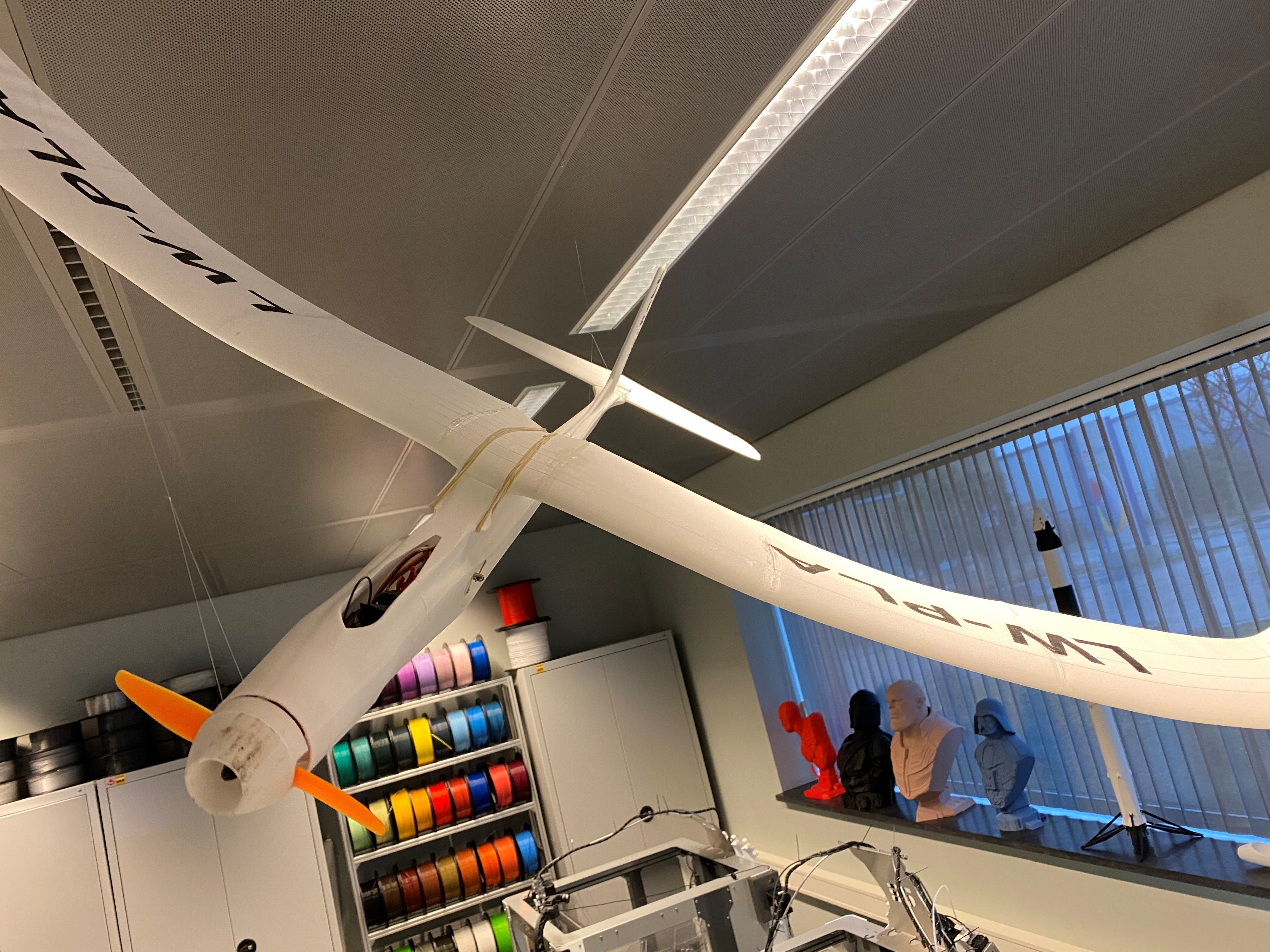 ---
All Color on Demand filaments are made to order. Keep this in mind when ordered. In a hurry? Contact us!
---
Do you have a question or suggestion?