Car Parts made with PA-CF Low Warp
There are as many uses for our filaments as there are 3D printers and users in this world. We love to come across great applications for our materials. Applications we could not think of when we developed and produced the filaments. Or could think of but never thought we would actually see it. Enter John Pham from Brisbane, Australia, who prints car parts with our PA-CF Low Warp filament.
We came across these prints on Reddit and contacted John about the amazing quality and practical use of his prints.
John considers himself a hobbyist and has printed about 10kg of PA-CF Low Warp. He has declared it his favorite filament so far to use.
John is a 3D printing enthusiast who happens to love cars. He adds: "I took this opportunity to try design and print as many parts for my modified Mazda MX-5 as possible. My main printer is a modified Tevo Tornado with a E3D Titan Aero hotend/extruder and 0.5 mm NozzleX, I print at 0.2mm and 0.1mm layer height depending on the parts function. My printing material of choice for functional car parts has always been carbon fiber nylon, and in my opinion colorfabb PA-CF produces the best results. Consistent printing results for myself and customers, good strength, excellent resistance to heat, fuels and oils. It also prints very easily, purple gluestick on 55C glass, no warping, flawless supports, excellent surface finish and dimensional accuracy."
As you can see, John has quite the skills to print with our engineering grade filament. PA-CF Low Warp is a carbon fiber infused polyamide material with the mechanical properties of a PA6 and excellent printability because of extremely low warp.
The material can be printed on desktop FFF 3D printers, which have a temperature range of at least 260°C on the hot-end and the ability to mount an abrasive resistant nozzle. PA-CF Low Warp excels in tensile and impact strength and allows continues use at 120°C while retaining sufficient properties for the intended application. The formulation has been modified to reduce uptake of moisture and it also takes about 4 times longer to reach the saturation point compared to unmodified PA6. This makes PA-CF Low Warp less affected by moisture then most other nylon filaments available in the market.
It's not only the velocity stacks that John printed: "I've used colorfabb PA-CF to print intake velocity stacks, bulkhead plates, side mirror mount, bonnet prop, work jigs, mounting brackets, 3D printer parts, and electrical connector housings."
PA-CF Low Warp was developed and released two years ago with LEHVOSS Group. The material shows good results when printed at ambient temperature, or cold bed. The advised processing temperature for this material is set between 260C and 280C. You can find more information about the printability of PA-CF Low Warp on our tutorial page.
---
Disclaimer: 3D printing is subject to various factors: material, processing, printer, settings, etc. Using printed parts like car parts or other parts that are used in real life are at the user's own risk. We recommend expert level printing, like this example, and extensive testing before use.
---
PA-CF Low Warp and PA Neat are available now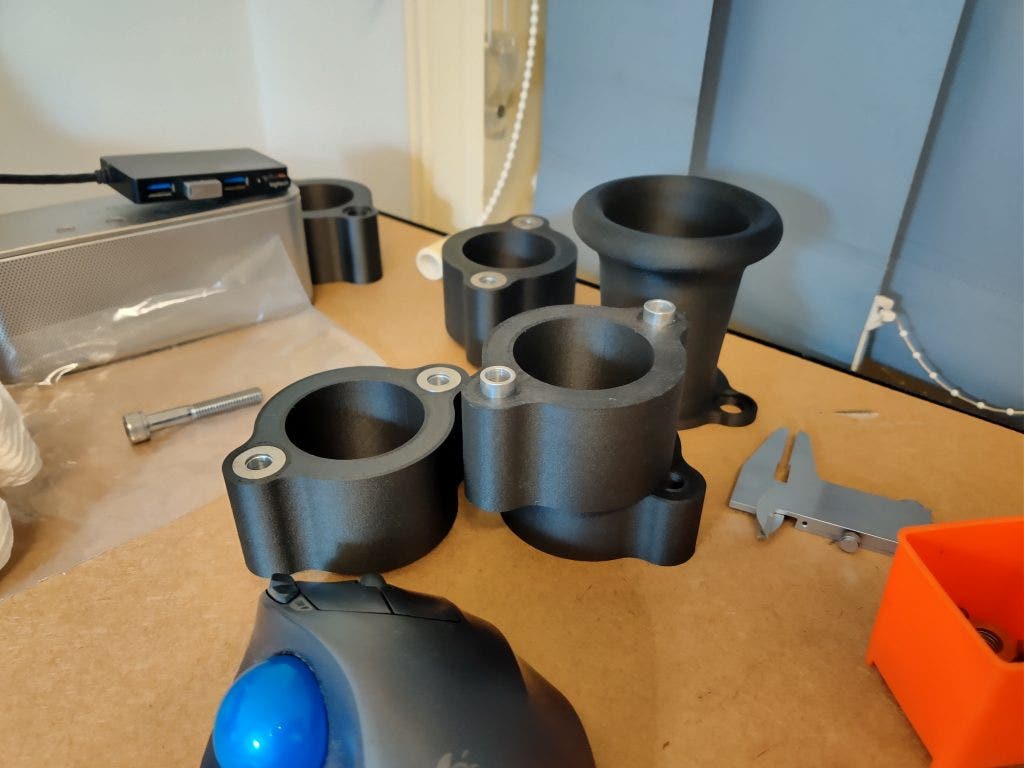 All parts printed and photographed by John
3D printed velocity stacks, all images made by John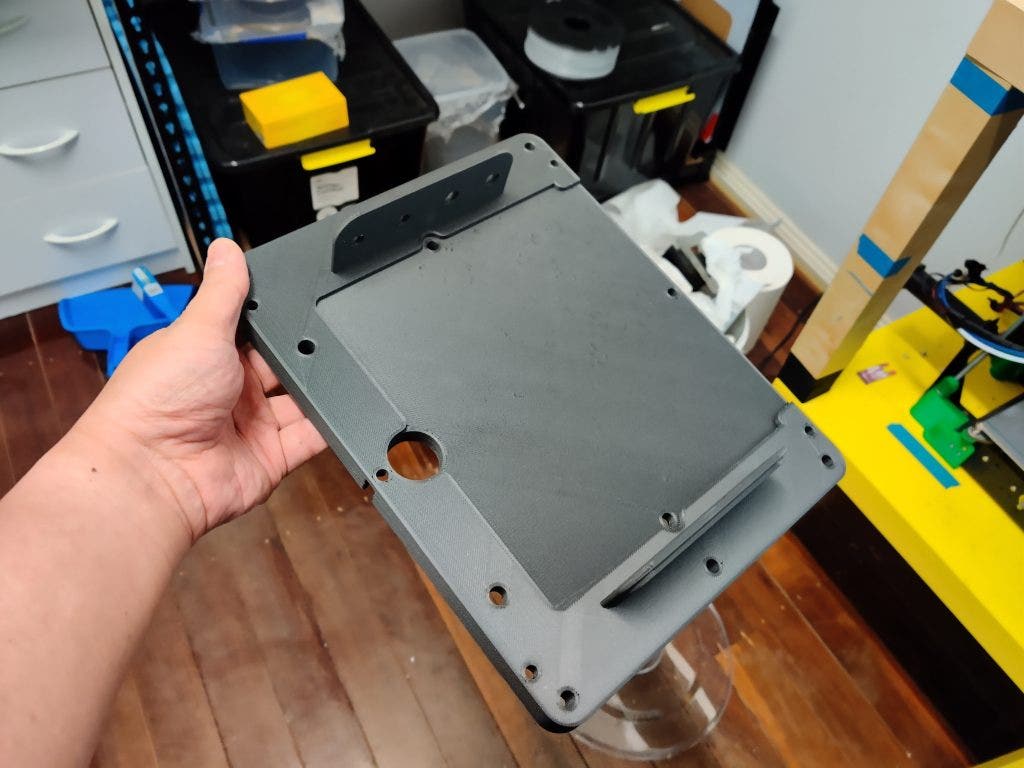 Spacer and velocity stacks, aluminium inserts used to add strength to the parts