colorFabb_HT – made with Eastman Tritan™
Of course we love our prints as they are. We put great effort to choose the best materials and the finest materials. With our "How To…" posts we want everybody to be able to create the best prints possible on a wide variety of printers. We have written before about post-processing our metal filled filaments, which literally truly shine when processed the right way. More links to blogs about post-processing these special filaments can be found here.
Beyond the special filaments, which have great aesthetic properties, we also have our range of co-polyesters: nGen, colorFabb_XT and colorFabb_HT and we received quite a few questions about post-processing these materials. To find our more about the materials themselves, check out the blog we have written before by clicking here.
Developed by Eastman Chemical Company, Eastman Amphora™ 3D polymers are the basis of our co-polyesters and offer a low-odor, styrene-free choice that is uniquely suited for 3D printing applications. With Amphora, items can be created that are more functional, more durable, more efficient, and attractive. With superior melt strength and dimensional stability, our range of co-polyesters deliver advanced bridging capabilities to create stronger and more detailed items—with low odor and low emissions.
Now, once a print comes of the printer and you want to be doing something truly functional with it you may need some kind of post-processing with it, also called secondary operations. Be it painting, drilling or glueing there are multiple ways to work with a printed object once it has been printed, but before you can use it. You can truly bring 3D printing into your life by making useful applications.
For instance, you need to drill into a part. This should be no problem with co-polyesters. We recommend drills specifically made for plastic. Steel drills are possible, but only when grounded.
COLORFABB_HT: TRITAN TECHNOLOGY
colorFabb_HT is made with Eastman Amphora™ HT5300 and is a low-odor and styrene-free material uniquely suited for advanced 3D printing users, particularly those who need their models to exhibit excellent durability, toughness and high temperature resistance with a Tg of over 100⁰C. Amphora is Eastman's brand of co-polyesters dedicated for 3D printing. Our nGen, colorFabb_XT and nGen_FLEX are also made with Amphora materials.
colorFabb_HT is enabled by Eastman Tritan™ copolyester technology. Tritan is Eastman's flagship product and has been succesfully added to the 3D printing portfolio with colorFabb_HT. Learn more about Tritan on Eastman's dedicated website.
COPOLYESTERS EXPLAINED
The way we see it, FDM 3D printing filaments will be all about functionality in the future. How you are going to use your prints in the real world will define what material you choose. We have found a lot of characteristics in Eastman's range of Amphora co-polyesters that offer functionality, durability and efficiency. Added benefits compared to ABS are the low-odor while printing and that Amphora based filaments are styrene free.
Compared to PLA, Amphora features a much better heat resistance, starting at 75C for colorFabb XT, 85C for colorFabb nGen and 100C for colorFabb HT. Below is a chart how our range of co-polyesters compare to other materials like PLA and ABS: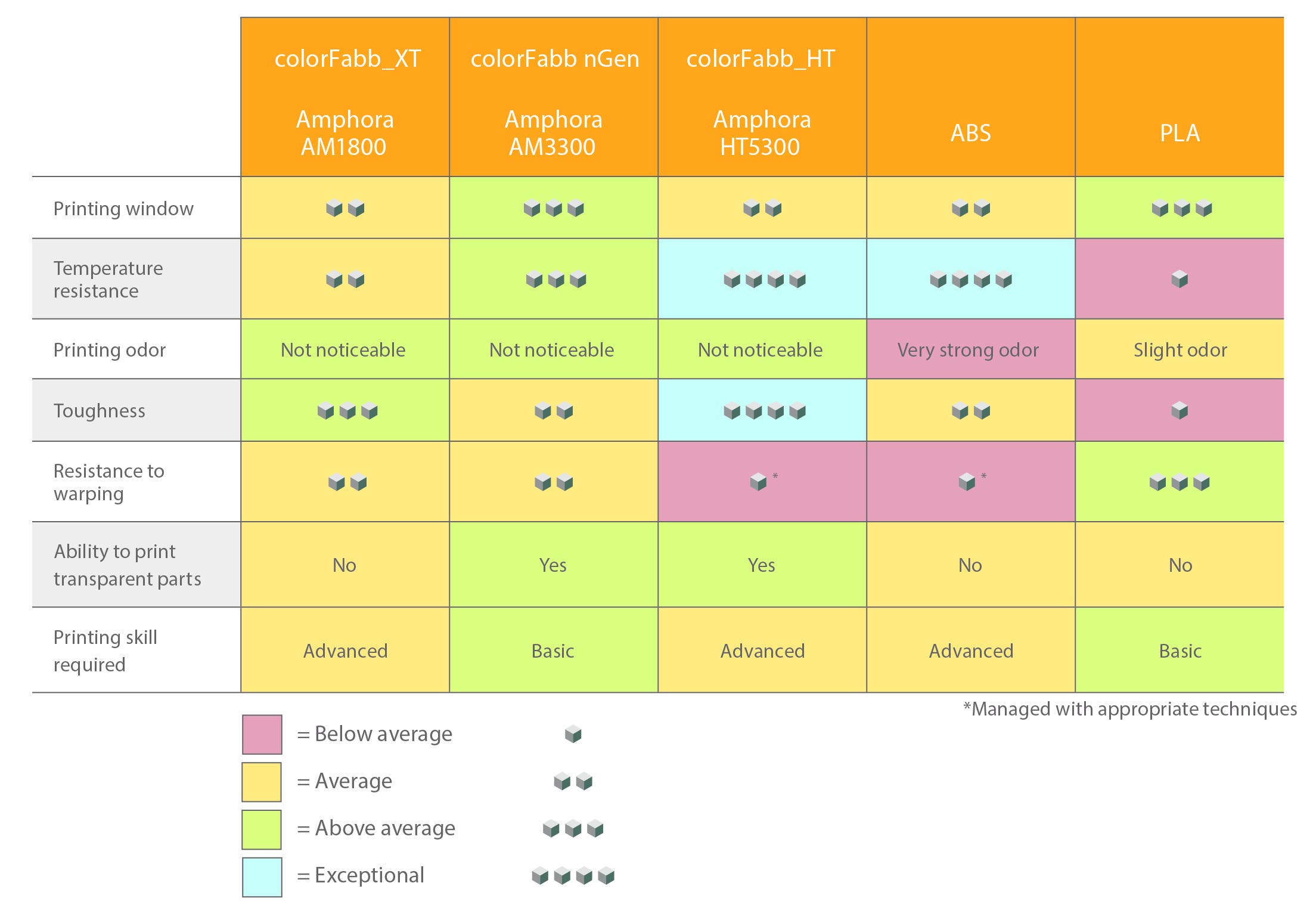 colorFabb_HT is uniquely suited for advanced 3D printing users, particular those who need their creations to exhibit excellent durability, toughness and temperature resistance.
CLEAR PRINTS
One of the unique features of colorFabb_HT is the ability to print near transparent parts. Due to the high flow characteristics it is now possible to print parts that are almost see-through. Due to the process of 3D printing, there is always a limit to how clear your print will become. With most materials the small gaps in between the 3D printed lines never really gets filled, resulting in a milky look when printing with transparent filaments. colorFabb_HT manages to fully close these gaps, resulting in a fully solid and transparent part.
Learn more by visiting our blog:
---
colorFabb_HT is a stock product at colorFabb. All five colors are readily available and ship worldwide from stock.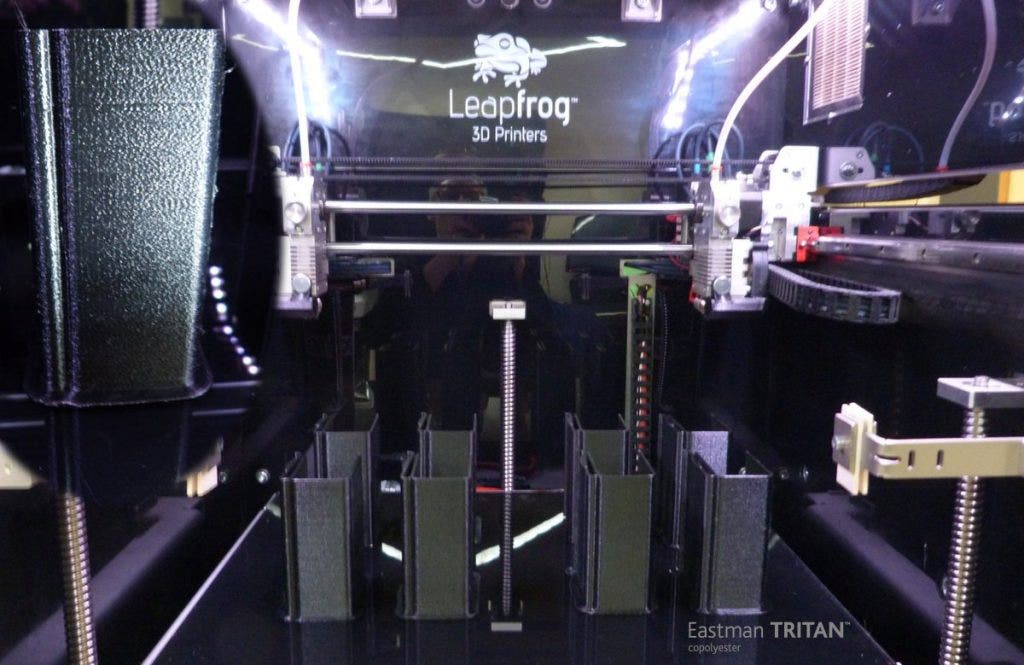 High tech clamps, printed with colorFabb_HT on the Leapfrog Bolt by Peter de Corte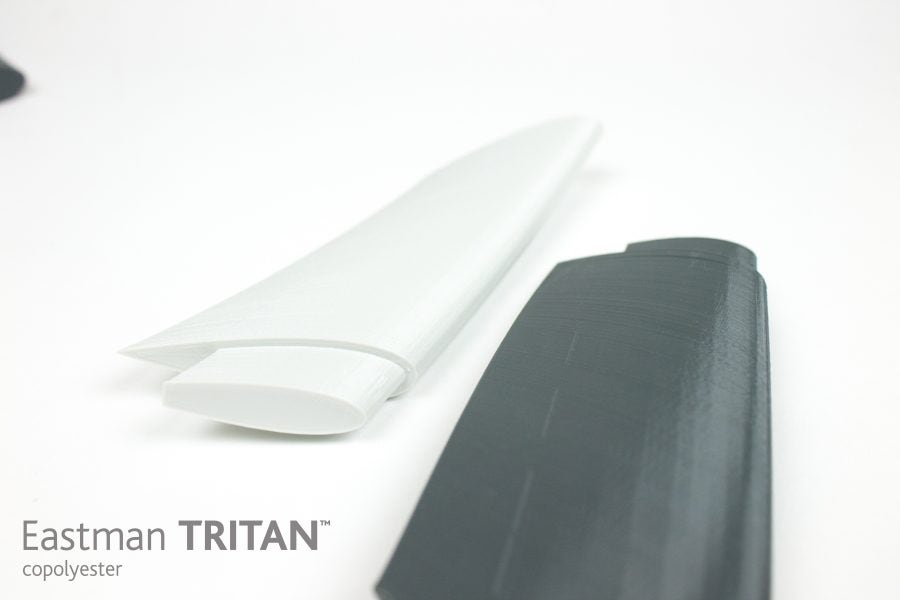 Vertical windmill by Michael Broderick.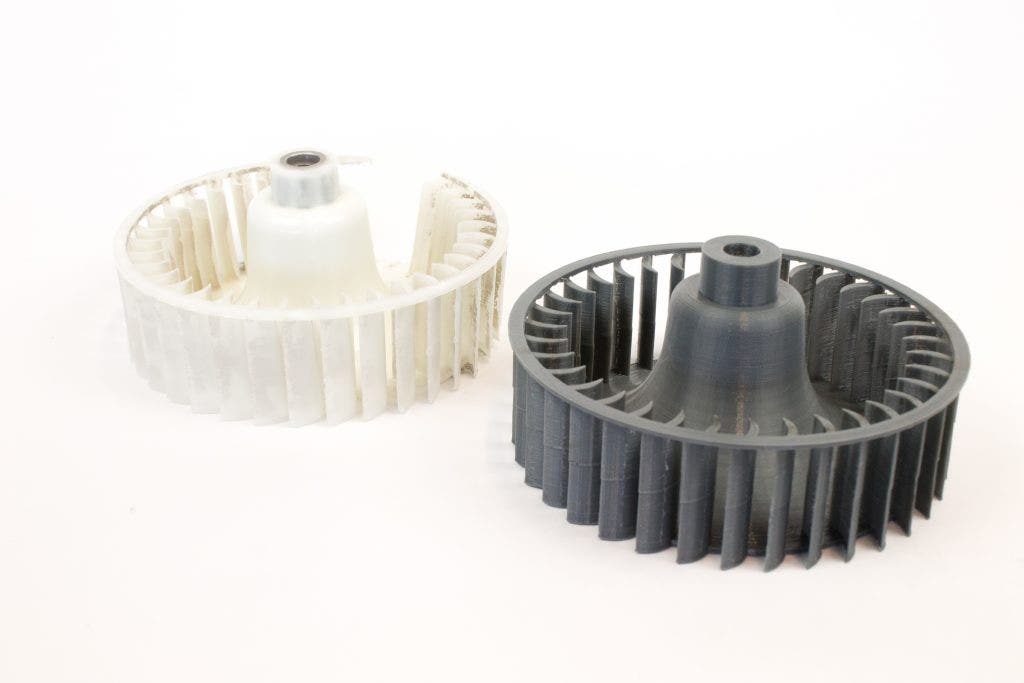 Old and broken laundry dryer part left, new printed one on the right.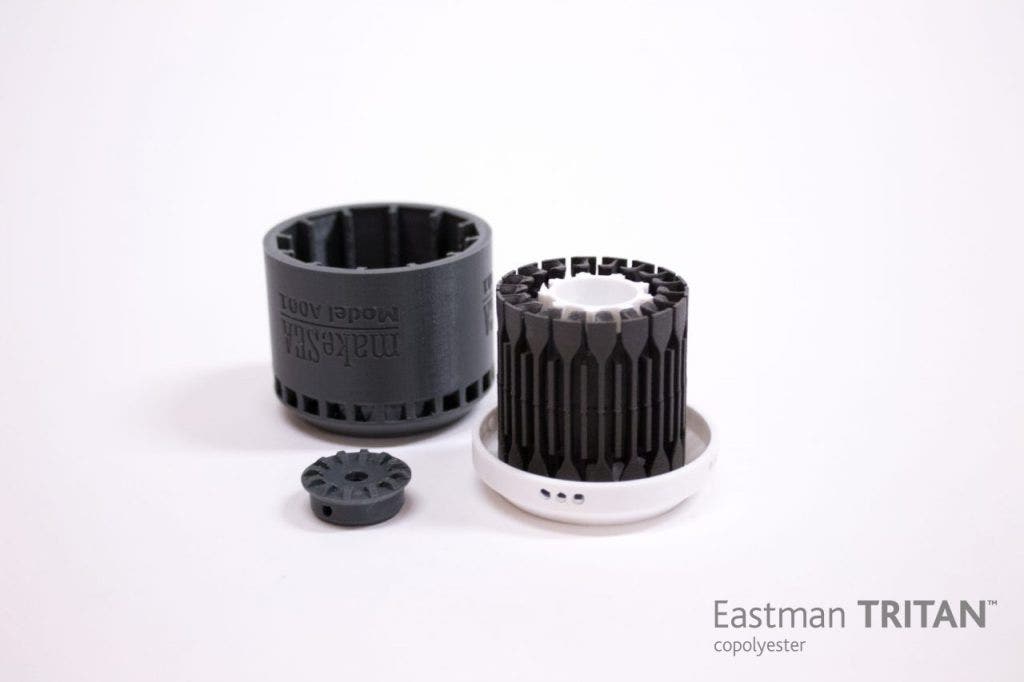 Brushless motor by MakeSEA, colorFabb_HT print in combination with steelFill.
Do you have a question or suggestion?