MODEL TRAINS AND TABLE TOP GAMES, YOU CAN HAVE IT ALL!
FROM VISION TO REALITY.
From model trains, trams and cars, to tanks, props and scale model houses, you can create your dream environment using 3D printing
Many hobbyists, gamers and scale modelers are starting to take an interest in 3D printing. 3D printing can be a time saving and fun way to create an object, such as a scale model house for your miniature railway build or custom-made model train, that works just like the real thing!
Want to take things a step further? We'll show you how Chris applied 3D printing in spacecraft scale modeling. And give you an idea as to what filaments might work well for your projects.
So, if you are looking to build your own tiny world filled with trains, houses and all things miniature, build giant scale models, or simply want to visually upgrade your Friday night table top games, we'll show you why 3D printing is the way to go beyond limits and utilize your creativeness!
Building bridges
Adding some 3D printed spice to your model railway setup!
A BRIDGE WE'LL CROSS WHEN WE GET THERE.
3D printing your landscaping scale models in regular PLA is a good place to start. Want to take your prints to the next level? Try out our woodFill and stoneFill filaments. These filaments give off a natural and realistic look, are easy to print, and allow your scale models to thrive to their full potential!
LOST IN A TRAIN OF THOUGHT.
One of the important parts of any model railway build are the trains. Whether you decide to buy the model train in a store or print the trains yourself, or whether you're focus is on the landscaping, trains are mandatory. It doesn't matter if you're new to 3D printing landscape basics or have already mastered the skills to design the smallest of details to and around your railroad tracks. It is a fun process of creating a new way of looking at this hobby.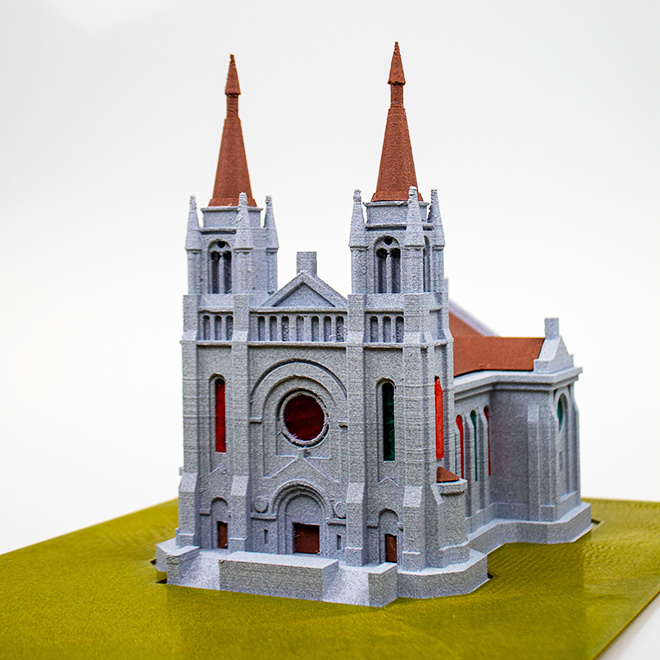 A BLESSING IN DISGUISE!
Whether you are looking into 3D printing for a diorama, a railway train track, scale models, RC cars or planes, or Friday night geek outs during DnD (Dungeons & Dragons), 3D printing miniatures and scale models can make your life easier, more creative and more fun.
Our filaments find their way all over the world to thousands of users. From hobbyists to the largest companies, we see how filaments are being used for numerous applications: from fun to functional. In 2020 we held a contest, #madewithcolorFabb, where we invited our users to share their prints with us. Derek Cameron from voestapline Railway Systems Nortrak sent in a fantastic print of a model railway track he made with our Color on Demand PLA.
"We often utilize 3D printing as display models for customers, trade shows and also for prototype fit and function. Showing a 3D printed model to a customer really grabs their attention, which can be difficult to do with just a 2D drawing. I instantly thought of how great it would be to have models printed in our company's official color, especially for models used at tradeshows. I no longer had to search to find a filament that was "close enough" in color. This, along with colorFabb's consistent high quality and ease of printing made the filament an easy choice." - Derek Cameron
GO BIG OR GO HOME!
Building a 1:33 scale Saturn V.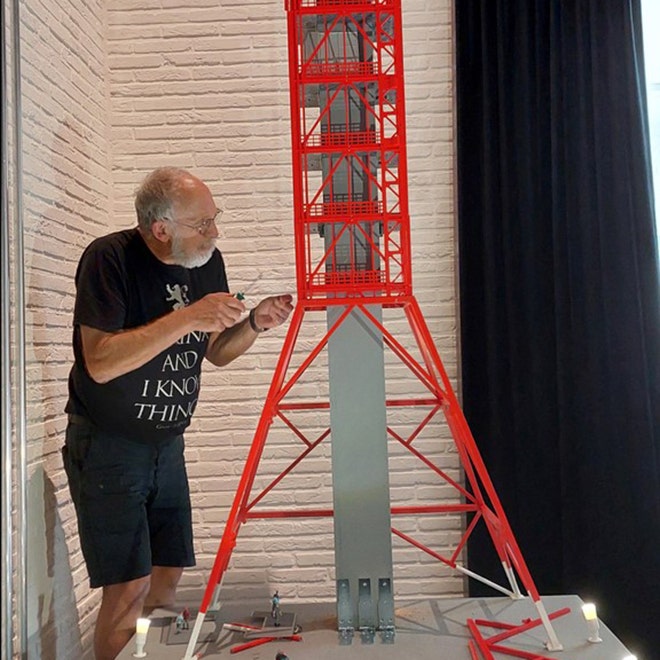 THE MAKING OF!
"This LUT/Saturn V combination is fully printed with PLA Economy. I've used many different brands of PLA in the past, but colorFabb PLA Economy is price/qualitywise convincingly the best of its kind. The entire construction, launch platform, LUT, Saturn V, has a total height of 4.2 meters (13.7 feet) and is printed on a 1:33 scale.
To create stability and strength, the launch platform and elevator shaft of the LUT (Launch Umbilical Tower) are made from multiplex. The rest is 3D printed. To print the LUT's perimeter, I had to you almost 4 entire spools of PLA Economy Red. All floors of the LUT's stories are printed with PLA-Economy Silver, which took about 3.5 spools of filament. The walls of the wooden elevator shaft have been decorated with PLA-Economy Light Grey (2 spools)." - Chris Baetens
T(H)RUST(ERS) IN THE PROCESS
"The Saturn V is printed with PLA Economy White, for which I had to use a grand total of nearly 7 spools. The printers used are made and designed by myself. All 4 of these printers were built in a way to easily swap between nozzle's and 1.75/2.85 filaments, making it a process of only a few seconds! To print the entire project, I've used 3 nozzles. The Saturn V is printed using a 0.7 as well as a 1.5 mm nozzle. Details were printed with a 0.4 mm nozzle. The LUT is printed with a 0.7 and 04 mm nozzle."
"For bigger projects, there's a nozzle of 2.0 and a 2.5 mm at the ready, which uses a 2.85 mm filament. A returning question is if you can print invisible 1.1 mm layers with a 1.5 mm nozzle. Yes, you do, but with a giant like this rocket, which you will not stick your nose up against to look at it, you will not see this. At a normal viewing distance you can barely see the layers. Printing this 4-meter (13-foot) spacecraft with a 0.4 mm nozzle is just undoable, it would take way too long." - Chris Baetens
UNDER CONSTRUCTION
"The entire construction took about, effectively, a few weeks. Saturn V was build within a week, for there were no infills used. The upper parts are printed in SpiralVase mode. All larger parts (300 mm diameter) are printed with a double wall, very close to each other, with infill between the walls of 10%.
To make sure that the weight would not make it collapse on itself, and to take some of the pressure off of the lower parts, everything is constructed with bolts. Besides that, there are 4 large M8 steel wires running through the entire Saturn V structure. The entire construction of the Saturn V was drawn by 3 people and we used 6 printers to make this huge project happen." - Chris Baetens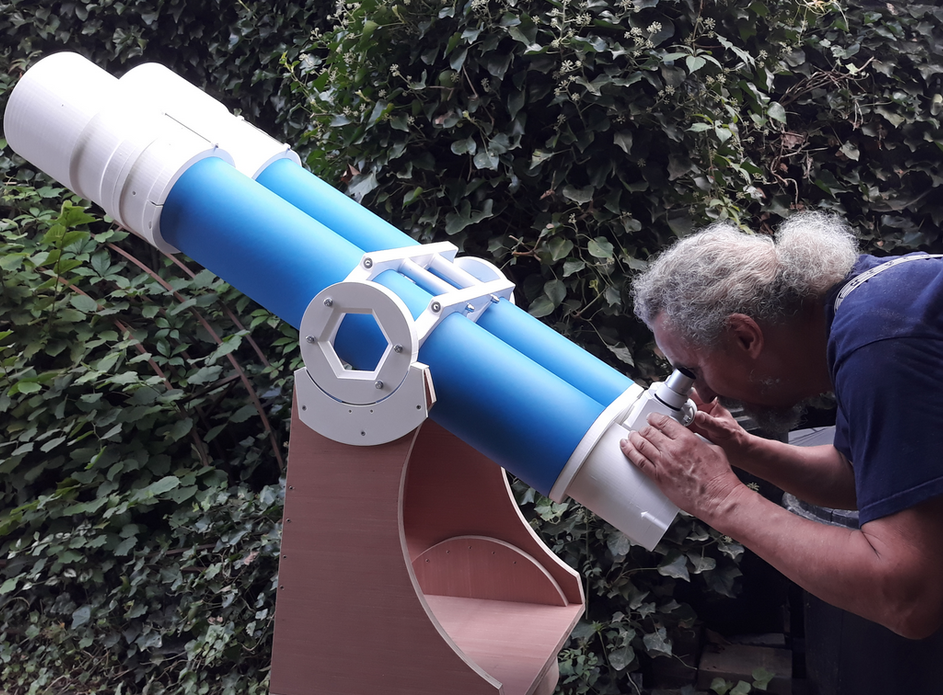 "We've built a lot of 3D models for our observatory using colorFabb filaments. I've used many different brands of PLA in the past, but colorFabb PLA Economy is price/qualitywise convincingly the best of its kind."
Chris Baetens, Observatory Urania, Hove (Belgium)
Just a few ideas to create your dream scale models
BECOME YOUR OWN TABLETOP ARTIST!
Looking to one-up your DnD evenings, or simply replacing a missing pawn in your board game? 3D printing is the solution!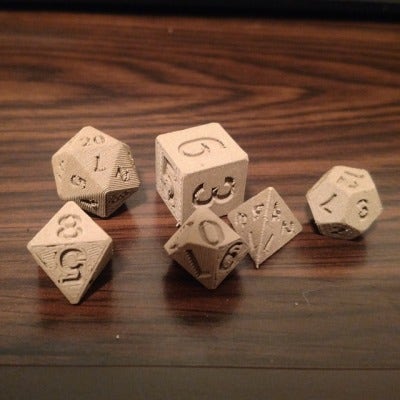 CRIT HIT!
These days, Etsy is full of custom-made dice, from resin cast transparent icosahedron's filled with tiny rubber duckies, to solid metal-look D12's. Want to make yours unique? Make them yourself!
Using bronzeFill, copperFill or steelFill will ensure you of beautiful, solid and weighty dice. Right off the printer they may not look like much, but once you brush their matte surface, a beautiful metal starts appearing.
Another great filament for your D20 could be glowFill. There's not much weight to it, but it lights up the lost mine of Phandelver!
Picture: silkburrito27 - bronzeFill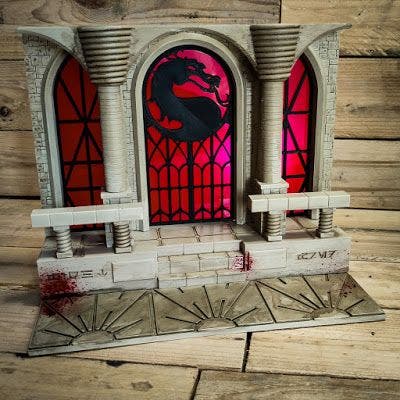 COVERING MORE GROUND.
Landscapes in which the figurines will stand, such as dense forests, mountain paths, and noisy taverns are great for 3D printing. Adding these to your tabletop game will automatically improve the player's investment in the story and helps to visualize the obstacles the player may face.
Locked doors, nasty sewers, shady taverns or deadly passageways make the story all the more lively when you can actually see them.
Adding terrain to the game can be a real game changer (yeah, we went there).
Picture: the3dprintingmagic - Economy PLA
MAKING YOUR MONSTERS REAL.
Tabletop games are slowly losing their stigma of being nerd culture, and Dungeons and Dragons is more popular than ever before under main stream audiences. Even though you can play DnD with just your imagination and a good Dungeon Master, some players prefer to use figurines, miniature landscaping terrain such as walls, flooring, sewers, caves and anything and everything that might help with visualizing the world they're playing in.
And don't forget providing a face for the monsters and villains of the story, such as the well-known Demogorgon, the Dracolich, a pit fiend or a kraken.

Picture: u/PrusaNoob - nGen
MEET OUR PRODUCT HERO GIJS!
He knows everything about anything 3D printing and filaments. So if you want to know more about how to apply 3D printing for hobbyist purposes, feel free to contact Gijs, who can tell you all about where to start with our materials!