What we talk about when we talk about co-polyesters
in the summer of 2014, we announced our partnership with Eastman Chemical Company. Eastman is a worldwide specialist on co-polyesters, a material we recognized to have benefits for 3D printing. In the past two years we have launched three filament grades with Eastman's raw materials, branded as Eastman Amphora™ 3D polymer.
Why co-polyesters?
The way we see it, FDM 3D printing filaments will be all about functionality in the future. How you are going to use your prints in the real world will define what material you choose. We have found a lot of characteristics in Eastman's range of Amphora co-polyesters that offer functionality, durability and efficiency. Added benefits compared to ABS are the low-odor while printing and that Amphora based filaments are styrene free.
Compared to PLA, Amphora features a much better heat resistance, starting at 75C for colorFabb XT, 85C for colorFabb nGen and 100C for colorFabb HT. You can find the comparison between our co-polyesters, ABS and PLA in the table below: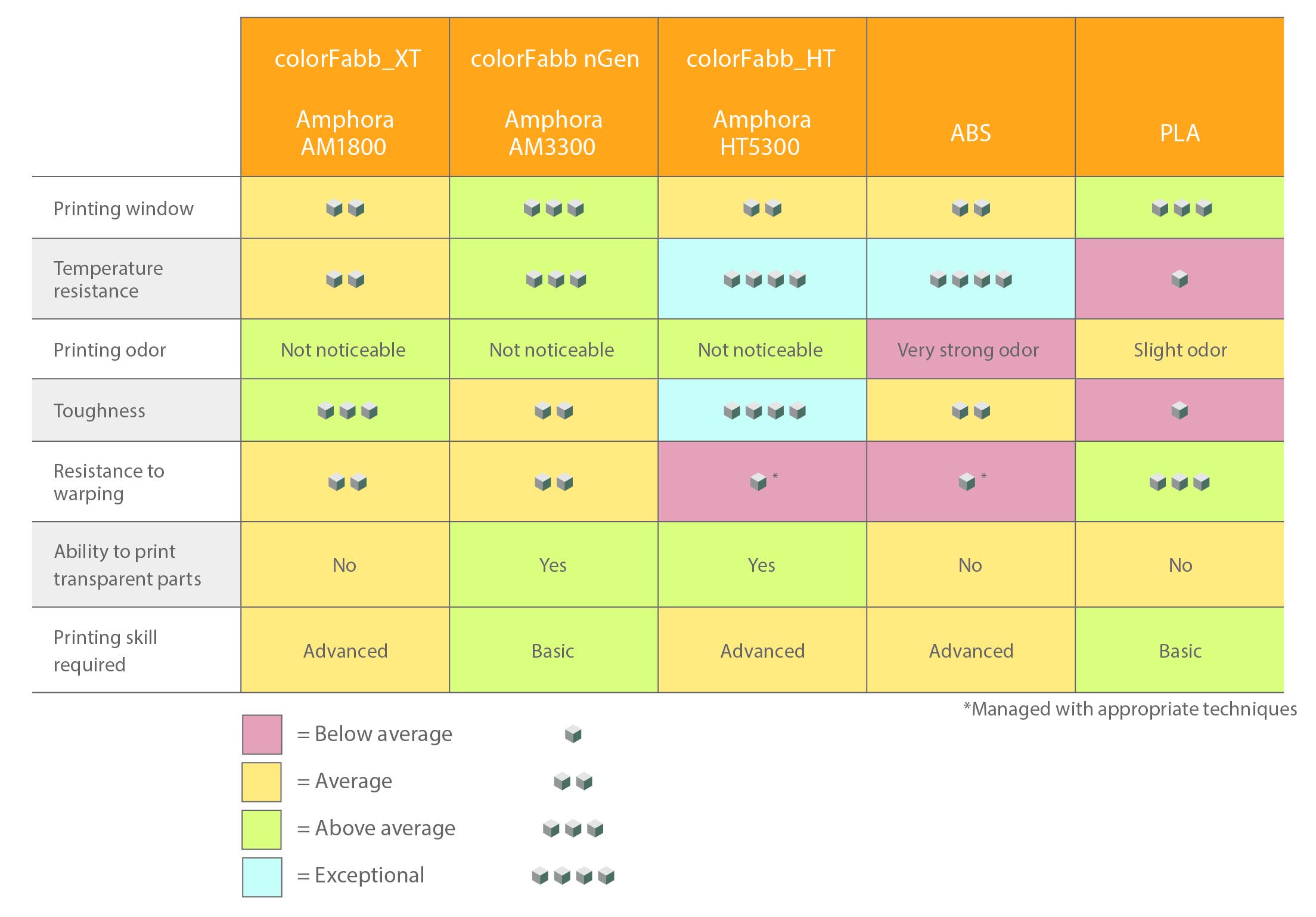 More information about emissions during 3D printing can be found in the brochure that Eastman has prepared after some extensive studies. You can find the pdf extract of this study by clicking the button below:
colorFabb_XT
Launched in September 2014 as our first effort in the realm of co-polyesters, colorFabb_XT (made with Eastman Amphora AM1800) has been a favorite for engineers and people searching for more functionality in their prints.
Launched in September 2014 as our first effort in the realm of co-polyesters, colorFabb_XT (made with Eastman Amphora AM1800) has been a favorite for engineers and people searching for more functionality in their prints.
With colorFabb_XT we achieved to produce a filament that provides good strength and toughness, as well as certain FDA food contact compliances. It has found a wide audience amongst users looking for extra functionality. Examples would be the modulus shelter project by Antoine Proust and Barnacules' storm trooper project:
nGen
Ever since launching colorFabb_XT we were looking for a material to release that was more all-round and could be printed at lower temperatures. We were looking for a material which is as easy to use as PLA without losing certain functionality that PLA lacks. Late last year we brought nGen to the market, which was very well received:
nGen, meaning next Generation, is made with Amphora AM3300 and has good flow properties through the printer nozzle – even at lower temperatures than some other polymers require. These properties make nGen workable at a wider range of temperatures, producing reliable results and resulting in less waste. nGen exhibits advanced overhang ability and excellent looks – empowering large groups of users to create durable and useful items.
Earlier this year, Korneel Bullens approached us with a huge project: to print a scaled Saturn V rocket with gantry with our new nGen. The result is fantastic and towering 2.5 meters high.
This print, consisting of 600 separately printed parts, was surely one of the eye catchers at the AM Show in Amsterdam end of June where it was featured on our stand.
We have found nGen to be a reliable, all-round material which has nearly double the heat resistance of PLA. On a hot summer day, a PLA print can start to deform when left in the car, for instance. Not so with nGen, which has a heat resistance of 85 degrees C, making it immediately more stable and reliable.
Another key feature of AM3300, the base material of nGen, is the hydrolytical stability. This means that in every phase of the material (as a pellet in its raw form, to a filament and to the final print) the mechanical properties will hardly be affected. This provides not only stability in the printing process itself, but also the reproducibility from print to print will be of the same high quality.
colorFabb_HT
Now, on the other end of the spectrum we find colorFabb_HT, made with Amphora HT5300. Its biggest asset is its elevated heat resistance temperature of 100 degrees C. This opens up new applications with your 3D printer. If you need your prints to exhibit excellent durability, colorFabb_HT is the go-to filament to use. It empowers professional users to create truly functional spare parts and useful prototypes.
colorFabb_HT is aimed at the advanced users who need the high temperature resistance and toughness for their prints.
An added feature of colorFabb_HT is that you can print near transparent objects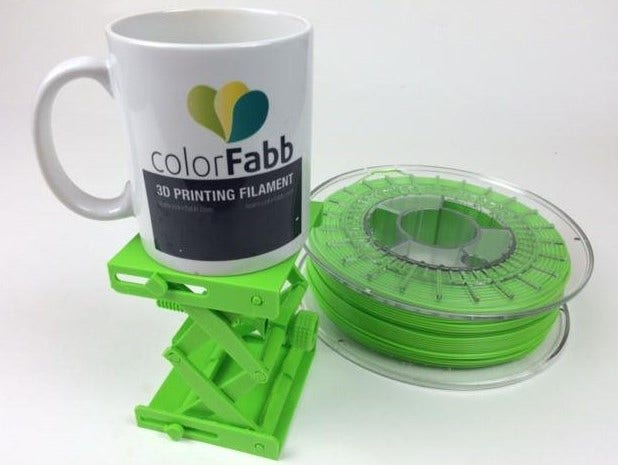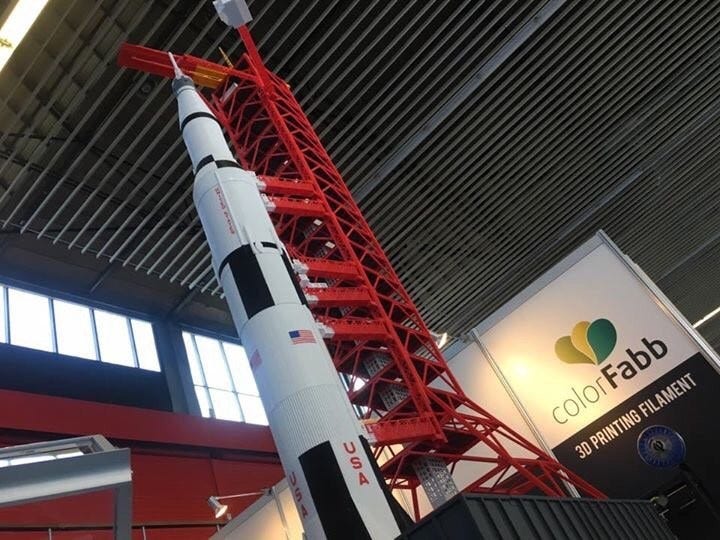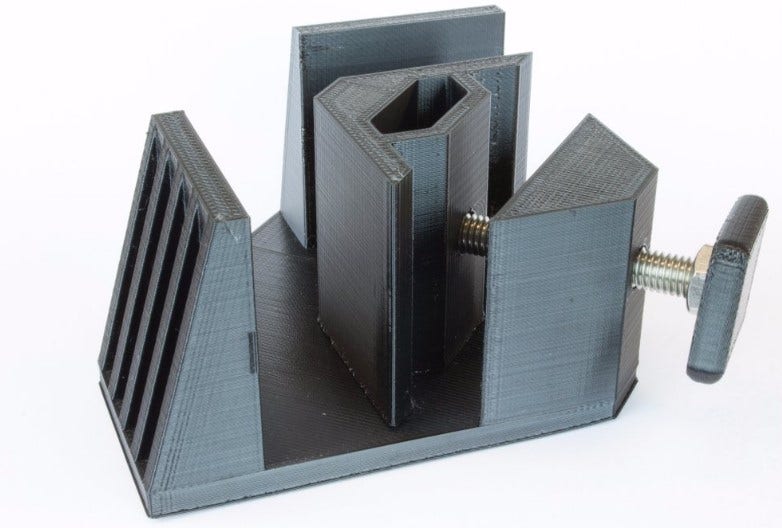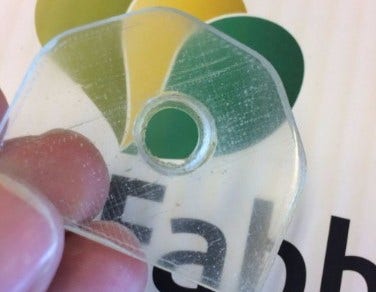 Do you have a question or suggestion?